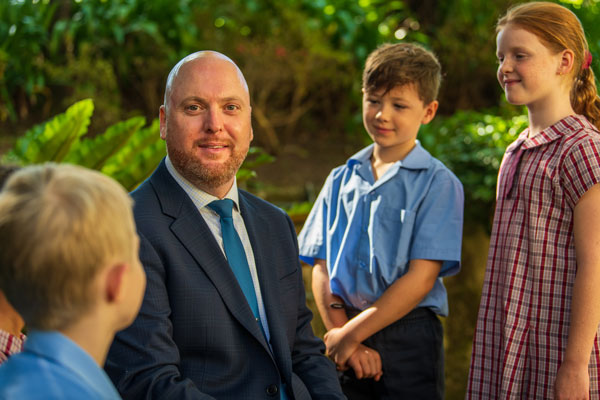 Welcome to St Charles' Catholic Primary School, Waverley. As principal of St Charles', I believe that putting students at the heart of everything we do is crucial. Developing and promoting a positive and successful learning environment where students experience success is paramount.
St Charles' is an inclusive school community focused on the charism of St Francis and St Clare of Assisi. Our goal is to provide our students with a rigorous and engaging child-centred curriculum based on the values of peace, simplicity and courtesy.
As educators in the Catholic faith, we strive to work in partnership with parents and carers, members of the St Charles' Catholic parish and our dedicated teaching staff to nurture student well-being and promote positive growth mindsets. We are committed to the academic, artistic, physical, spiritual and social development of every child in every lesson.
We encourage our students to adopt a growth mindset, believe in themselves and set goals for personal improvement, empowering them to take responsibility for their own learning and development. Through fostering in them a desire to grow and learn and love, our students are able to become the best version of themselves.
St Charles' School strives to foster giftedness in students and is proud to be recognised as an Australian MENSA School Affiliate. The purpose of MENSA is to identify and foster human intelligence for the benefit of humanity and provide a stimulating intellectual and social environment for members and affiliated schools.
The school's innovative pedagogy encompasses differentiated programs to suit the needs of every learner, challenging enrichment opportunities and a focus on sustainability and environmental awareness.
As principal of St Charles' Catholic Primary School Waverley, I warmly invite you to visit our school to see first-hand our values in action, future-focused learning activities and welcoming school community.
Please take the time to look through our website and connect with us on our St Charles' Waverley Facebook page to view the numerous learning opportunities provided. With continuous and ongoing staff professional learning and a commitment to student improvement and well-being, St Charles' is a place where your child can thrive.
Michael Manton
Principal
Proudly Part of the Community of Sydney Catholic Schools
Our school is part of a system of over 150 low-fee Catholic schools in the Sydney Archdiocese.
Sydney Catholic Schools are thriving Catholic communities that ignite a love of Christ through excellent teaching and learning to empower students to reach their full potential.